Picture Frame Repair and Restoration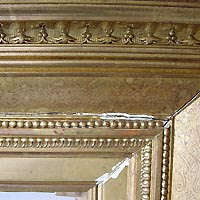 We are constantly putting old frames back together and we are constantly asked the following questions;
Can we repair old frames?
Of course we can and do all the time. Why pay for new picture frames if the picture frames you have look good with your existing artwork or you just love them. Old gilt picture frames? We can repair the oldest of picture frames making new parts for missing detail as necessary. If you're not sure whether they are suitable for repair then just pop them in to us for a quick, no obligation assessment.
Can we cut some glass (or backs, inserts or mounts) for my existing frames?
Again of course we can. It is always best to bring the old picture frames in to us so we can check the measurements and to make it safer for you to transport any glass. If you want us to put everything back together safely then again it's no trouble.
We frequently take boxes of old picture frames, bits of antique glass, old oils or pictures and put them all back together again to give you a fantastic wall display.
Bringing many items in at once is very economical as we just charge for the time taken and materials used.
Can we clean and repair old oils on canvas?
A cleaned and re-varnished oil is always a transformation. Taking away the years of grime can show you colours you didn't know were there. When varnished the contrast is enhanced and the picture will have a prolonged lease of life. We can also do minor repairs to the canvas, touching-up of the artwork and re-stretching onto the old or new stretcher bars.
Insurance / Removers work?
We can carry out frame repairs or reglazing for you, or on behalf of Insurance Companies or Removal Companies when things get damaged by fire, flood, accident or moving home. We are happy to invoice these companies directly.